ARTICLE 1: Did Haters Ruin The Amazing Race 16 Finale?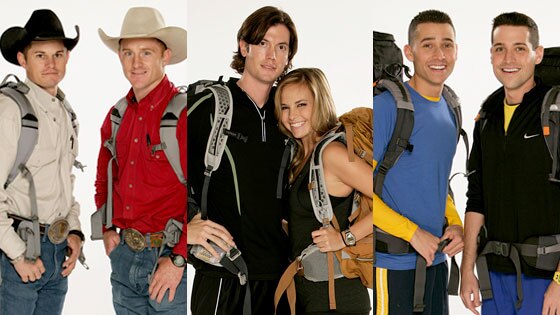 Photo Source: Monty Brinton/CBS
As the final three teams raced toward
Phil Keoghan
and the finish mat in Candlestick Park in tonight's
Amazing Race
finale, their former competitors cheered.
One team, however, stood aside…and sneered.
Yep, Team Sour Grapes
Carol Rosenfeld
and
Brandy Snow
are still harboring that grudge against "dumb" beauty queen
Caite Upton
for the U-turn that ultimately resulted in their elimination in episode nine.
Did the Catfight at the Candlestick Corral spoil the victory celebration?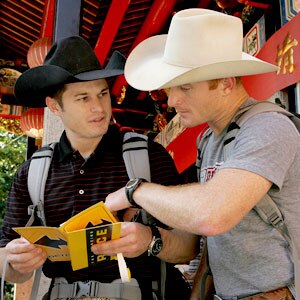 Photo Source: Monty Brinton/CBS
Thanks to Caite, no.
By shouting "I love you all!" to the crowd, the third-place finisher (with partner
Brent Horne
) defused the hostilities and allowed
Dan
and
Jordan Pious
to celebrate their win—while everyone else celebrated runner-up cowboys
Jet
and
Cord McCoy
for being awesome.
The Oklahoma horsemen, possibly the most beloved team in
Amazing Race
history, accepted their loss as graciously as they played the game. "He's a good man," said Cord about big brother Jet. "He's my best friend." And loyal, too—we shed tears last week when Cord recounted Jet never leaving his side when he was hospitalized after a serious rodeo accident.
Dan and Jordan are likable enough champions—except for their sneaky line jumping that might have cost the cowboys the race—but Dan made it hard for us to rejoice by once again trumpeting his contribution and self-sacrifice: "I made my little brother's dream come true," he bragged for the gazillionth time. "It's so great knowing that
I
could help [Jordan] make his No. 1 dream come true."
Dan's self-proclaimed superpowers aside, all three teams were strong competitors going into the final leg of the race. The Pious brothers got an early edge by talking their way into first class and thus deboarding the plane in San Francisco. Their luck continued with a competent taxi driver, while Caite and Brent hired possibly the worst cabbie in the Bay Area. His lack of fluency in English (oh, the irony for the world travelers) and geographical ignorance, who stopped the car to consult a city guide kiosk) unquestionably knocked them out of the race.
And the cowboys, despite Cort's hilarious fake commands ("Ballet move! Sashay!") in the virtual reality challenge, were ultimately no match for Dan's mighty shoulders that carried his little brother to victory.
Regardless of the final outcome, all three teams deserved to feel like winners. Too bad sore losers Carol and Brandy couldn't share their happiness from the sidelines.
END OF SOURCE:
1) http://www.eonline.com/uberblog/watch_with_kristin/b180216_did_haters_ruin_amazing_race_16_finale.html
COUNTERPOINT: (Article 2, From Vancouver, Canada)
Brothers win over fan favourites on Amazing Race
Read more:
http://www.vancouversun.com/entertainment/Brothers+over+favourites+Amazing+Race/3008631/story.html#ixzz0nXQS26Ol
Sometimes, karma wins out over dogma. At the outset of The Amazing Race's mad 23-day dash around the world, Dan Pious, a 24-year-old financial analyst from Barrington, R.I., told anyone who'd listen that he didn't like to travel.

He rarely, if ever, travelled outside the U.S. But he would agree to compete in The Amazing Race so that his younger brother, 22-year-old Jordan Pious, could realize his dream to be on The Amazing Race and see the world.

As it happened, Dan and Jordan Pious didn't just compete in the Race, they won. In Sunday's broadcast, seen by an estimated 11 million viewers in the U.S. and another two million in Canada, the brothers edged fan favourites Jet McCoy and Cord McCoy, professional rodeo riders from rural Oklahoma, to win The Amazing Race's prize of $1 million US and bragging rights as champions of The Amazing Race's 14th race around the world.

Former Miss Teen USA contestant Caite Upton and her boyfriend, Columbia, S.C., model and part-time actor Brent Horne, finished third.
"This has been the most incredible experience, and there was no way I could ever have been here without my brother," Jordan Pious said at the finish line, at San Francisco's Candlestick Park.

"This is my biggest dream come true, and he is the reason," Pious added, nodding toward his brother.

"I'm thrilled I did the race," the previously reluctant Dan Pious said. "It turned out to be an incredible experience. I made my little brother's dream come true. We did the race. We made the final three. And we won. This is crazy, man."

The teams raced from Shanghai, China to the U.S. West Coast in the final race leg. To win, Dan and Jordan Pious had to complete a number of physical and mental challenges, including climbing San Francisco's historic Coit Tower using rappel lines; completing a virtual-reality obstacle course at Star Wars filmmaker George Lucas's special-effects house, Industrial Light and Magic; lugging a heavy steamer trunk to San Francisco's American Music Hall - on foot - and then arranging psychedelic posters of the other Amazing Race teams in the order in which they were eliminated.

Jet and Cord McCoy were philosophical in defeat, in keeping with their reputation as fan favourites.

"There are things that are more important than money," Jet McCoy said. "The experience of being able to travel all the way around the world with my best friend and my brother, and in the end having our character and integrity intact, means we can walk out of here with our heads held high and look people straight in the face."

The Amazing Race, one of the most-watched weekly TV programs in Canada, has been renewed for a 15th season. CBS announces its fall schedule later this month, and The Amazing Race is expected to return in September, with another race scheduled for midseason.
Ironically, The Amazing Race - winner of seven consecutive Emmys for outstanding reality competition program - was itself nearly derailed by nervous studio executives in 2002, following the 9/11 terror attacks. It was granted a last-minute reprieve, and has steadily grown in the ratings since then.

SOURCE: http://www.vancouversun.com/entertainment/Brothers+over+favourites+Amazing+Race/3008631/story.html
That's all folks! Thanks for having the time and patience to read this blog entry!