Congratulations Scotty McCreery for winning the 10th season of American Idol.


Here's some articles:
ARTICLE 1:
(SOURCE CLICK THE TITLE)
American Idol Gallery
LOS ANGELES (AP): Scotty McCreery won the
American Idol
battle of the fresh-faced country crooners Wednesday against Lauren Alaina.
A record 122 million-plus votes were received for the finale. "I never in my wildest dreams," said McCreery, a 17-year-old with a strikingly deep, old-soul voice that contrasts with his youth. "I've got to thank the Lord first ... he got me here."
McCreery and Alaina, 16, represent the first all-country finale and the youngest duo ever to compete on
Idol
, which is in its 10th season.
The exuberant, big-voiced Alaina performed on Tuesday's final sing-off despite a vocal cord injury that needed medical treatment. She received raves from the judges, who said she won the night.
But the consistently popular McCreery, who'd never been at risk of elimination, claimed the title and a record contract. The teenager seemed overwhelmed as he took the stage for a celebratory version of
I Love You This Big
, halting to embrace his parents in the audience, Alaina and others.
Then he playfully stuck his tongue out, trying to catch falling confetti. His victory continued a recent pattern: He's the fourth male in a row to win the Fox TV contest, with 2007's Jordin Sparks, 17, the last female
Idol
.
Kelly Clarkson and Carrie Underwood, two of the four female winners, have proved the winners with the most successful recording careers.
This season's vote total was more than three-quarters-of-a-billion, Seacrest announced Wednesday. For Fox, it's affirmation there's still life in the series that's had a long ratings reign as No. 1.
McCreery commented backstage Tuesday on the loyalty of country fans, and they clearly gave the show a boost. Last year, Fox didn't announce the number of votes for the much lower-key contest between winner Lee DeWyze and runner-up Crystal Bowersox.
In 2009, when winner Kris Allen and Adam Lambert duked it out in 2009, more than 100 million votes were cast.
The show also remains a hot promotional platform, with Seacrest helping some of the pop stars push either movies (Black's new
Kung Fu Panda 2
) or a Las Vegas show (Gladys Knight). Lady Gaga, whose new album
Born this Way
is out this week, was another performer.
The grandest bid for attention came from Broadway's troubled
Spider-Man: Turn Off the Dark
, with composers Bono and The Edge performing with the musical's star, Reeve Carney.
Other high-wattage stars who performed Wednesday at the Nokia Theatre included Beyonce and and Tony Bennett. McCreery and Tim McGraw sang
Live Like You Were Dying
, while Underwood returned to
Idol
to pair with Alaina on
Before He Cheats
.
Judge Jennifer Lopez - draped in a scanty outfit and shaking her famous booty - took the stage to dance while husband Marc Anthony sang, turning the night into a family affair.
On Tuesday, Alaina's tunes were Underwood's
Flat on the Floor
, Pam Tillis'
Maybe It was Memphis
and
Like My Mother Does
, an emotional tribute to her mother in the audience.
McCreery sang his future single,
I Love You This Big
, along with his version of Montgomery Gentry's
Gone
and George Strait's
Check Yes or No
.
"These kids are so young ... I just go, 'Wow.' They embody what this whole show is about," judge Randy Jackson said backstage Tuesday.
ARTICLE 2:
(SOURCE: Click the title)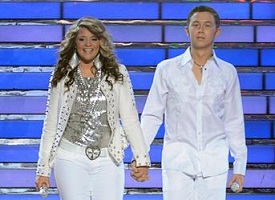 by Gina Scarpa
Last night, things on
American Idol
came down to teen country singer Scotty McCreery and teen country singer Lauren Alaina for the win.
The top 13 performed Lady Gaga's "Born This Way" and throughout the night, some of the lucky members were paired up with music royalty. James Durbin rocked out with Judas Priest (did you ever think you'd see metal on Idol?!), James Durbin sang up with gospel star Kurt Franklin and Gladys Knight, and Casey Abrams appropriately teamed up with Jack Black - and it was awesome!
The ladies of American Idol got together for "Single Ladies" and "Deja Vu", showing off many of them at their best - and then Beyonce herself came out to join them for "Crazy In Love". They also performed with TLC on "Waterfalls" after the duo sang "Scrubs" with some help from Lil Jon.
The men of American Idol got in on the action, singing a medley of everything from Prince to Elvis that had one thing in common - Tom Jones, who eventually joined them on stage for "It's Not Usual". Do the Carlton!
There were the usual video montages: Randy's most memorable quotes of the season, Steven's outrageous comments after performances, and Jennifer's reaction to the crushes of the male contestants. We also had foul mouthed rejectees, the Top 13 reflecting back on the season, and Scotty's and Lauren's trips back to their schools to donate some money to help the music programs there.
More celeb/Idol duets included Haley Reinhart with the one and only Tony Bennett, Scotty McCreery got to sing with one of his idols, Tim McGraw, and Lauren took to the stage with Idol winner Carrie Underwood.
Marc Anthony performed with a little help from his wife and Lady Gaga took over the stage later on in the night for "Edge of Glory". Beyonce also returned to show off her new song, "One By One". The Broadway show Spider-Man: Turn Off The Dark performed with Bono and The Edge from U2. Yep, still don't wanna see it. Steven Tyler also got in on the action on stage and performed "Dream On".
After two hours and over 120 million votes, Seacrest names Scotty McCreery the winner of American Idol!
(Image courtesy of FOX)
Follow Gina @
ginascarpa